Jennifer Roberts – Park Manager
Jennifer grew up in La Crosse, Wisconsin and began her career after high school when she joined the military. She served 15 years in the US Army and Army National Guard as both an enlisted member and an officer, including a tour in Sarajevo, Bosnia and Desert Storm. Jennifer went on to become a Biologist Assistant with Miami Dade County Department of Environmental Resources Management where she conducted coastal resource management and permitting. Jennifer then worked as an Environmental Specialist for Hillsborough County's Parks, Recreation and Conservation. She supervised an invasive species work crew, headed a multi-agency Invasive Species Task Force and transcribed and managed several large-scale grants. Jennifer began her Florida Park Service Career in 2011 as an OPS Park Ranger at Oleta River State Park. She was quickly promoted to Park Services Specialist where she served as Volunteer Coordinator, AmeriCorps Site Supervisor and Special Event Coordinator. Jennifer holds an Associate's degree in both Environmental Science and German. Jennifer served as the Assistant Park Manager at Hugh Taylor Birch State Park prior to being promoted to Park Manager.
Kyle Easley – Assistant Park Manager
Kyle was born in Las Vegas and grew up in Sarasota, FL. He was raised in a circus family who traveled throughout most of the world. Having taken on the technical side of the entertainment industry, he toured with several Off-Broadway and national tours as a Sound Designer. He was also an arena rigger, providing advance aerial rigging for many musical artists. Whether in the studio or on stage, Kyle has worked with many artists like B.B. King, Dave Brubeck, Peter, Paul and Mary, The Mills Brothers, Jeff Dunham, Kathy Mattea, Johnny Mathis, Diana Krall and Dickey Betts & Great Southern. He owned his own business designing and installing audio/visual systems in numerous venues throughout Florida. Kyle began his Florida Park Service career in 2012 as OPS Park Ranger at Honeymoon Island Administration, which includes Honeymoon Island, Caladesi Island, Anclote Key Preserve and Egmont Key and was promoted to Park Ranger in 2013. Kyle joined the Hugh Taylor Birch Team in 2016. He also serves as the site supervisor for our FLCC AmeriCorps Project A.N.T. team. In his free time, Kyle enjoys archery, traveling and camping with his family.
Jenni Leve – Park Services Specialist
Jenni worked for a grocery store chain for 23 years before moving on to greener pastures and beginning her career with the Florida Park Service as a volunteer photographer. Jenni became a seasonal employee during the recovery of Hurricane Wilma, and continued on her Florida Park Service career path as an Administrative Assistant before making a move to expand her working knowledge as a Park Ranger. She enjoys interacting with a diversity of Park visitors through interpretive programs and informal contacts, and the frequent local visitors who call this "Little Piece of Paradise" their backyard. She is very thankful that Hugh Taylor Birch had the foresight to entrust the property to the State of Florida for future generations to enjoy.
Jeanette Amadeo-Hyder- Administrative Assistant
Jeanette has worked at Hugh Taylor Birch State Park for a number of years, under three Park Managers. Her passion for the environment and love for the great outdoors brought her to Sunny South Florida from New York. Her duties at the Park consist of administrative and secretarial duties such as payment for the expenditures at the Park, submitting Revenue and Park Visitation Reports to Tallahassee, budgeting and balancing accounts for the Park, and handling phone inquiries while also greeting walk-ins at the Administrative Office.
Gary Busch- Maintenance
Gary started working for Hugh Taylor Birch State Park part time before being promoted to maintenance. He has worked in construction his entire career in one form or another, from building homes, to plumbing, driving cranes, to operating fork lifts and trailers. Gary loves the outdoors and being hands on with nature. Many of his photographs have gone national and international, including the cover of a magazine in New Zealand and with the Center for North American Herpetology.
Ronny Glisson – Park Ranger
Ronny Gilsson is a native Floridian born and raised in Satellite Beach, Florida. Ronny has been with the Florida Park Service for more than 28 years and has worked all over the state of Florida. Prior to becoming a Park Ranger for Hugh Taylor Birch State Park, Ronny worked at Sebastian Inlet State Park, Lover's Key State Park, and John Pennekamp State Park. Ronny is an avid surfer and loves all water sports.
Brian Pressler – Park Ranger
Brian Pressler is a Park Ranger at Hugh Taylor Birch State Park. His love of nature and desire to give back to the environment brought him to the Florida Park Service in 2007. Brian has a lifelong interest in the environment, especially birds, trees, and butterflies. In his free time, Brian enjoys fishing, diving, and spending time outdoors.
Heatherann Lamberto – Park Ranger
Heatherann Lamberto joined the Birch team in June of 2016. She has been working for the Florida Park Service since March of 2014. Heatherann has a passion for Florida's flora and fauna, and enjoys sharing her knowledge with park visitors. She loves participating in Ranger Guided Walks and educating the public about preservation of Florida's valuable resources. She enjoys fishing, hiking, and sea bean collecting.
Falon Hoak – Park Ranger
Falon is a native of the mountains of Pennsylvania, where her love and curiosity of the environment followed her first footsteps. After earning a degree in Biology, she moved to Florida in 2009. Falon held jobs as a regional sales rep for a homeopathic company and a food and beverage manager. Though excelling in these positions, they did not ignite her passion for the outdoors. An avid kayaker Falon was always touring friends around on adventures to help expose them to the real Florida. In 2016, Falon applied for a part time Park Ranger position at Hugh Taylor Birch State Park. Shortly after, Falon jumped on the opportunity to be a full-time Park Ranger and to advance her skills at Dr. Von D. Mizell-Eula Johnson State Park. Falling in love with the barrier island, rocky reef, mangrove and dune habitats, Falon acquired training in shoreline bird identification/rescue, sea turtle conservation and exotic reptile removal. In 2017 a Full Time Park Ranger position opened at Hugh Taylor Birch State Park, and Falon decided to return to the roots of her career. Falon is involved in the C.E.R.T. program in Fort Lauderdale, and in her free time enjoys free diving the reefs and springs, hiking, kayaking, raising butterflies, and gardening.
Jackie Anderson – Park Ranger
Jackie grew up in Fort Lauderdale and visited Hugh Taylor Birch State Park throughout her youth. After obtaining a Bachelor of Arts degree, she moved to Chicago where she raised her family. Jackie left the Midwest to move to Colorado and then California returning to her roots in 2016. Her love of the outdoors drew her back to the park where she volunteered before beginning a new career in the Florida Park Service. She enjoys reading, hiking, needlework and road trips.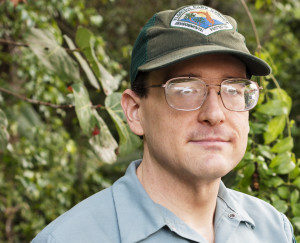 Marc Caruhel – Animal Care Specialist – OPS Park Ranger
Marc began his relationship with the park at eight years old when he became a Camp Live Oak Camper, and later a Counselor in Training and then a Junior Counselor. He attended Florida Atlantic University where he served as an animal and environmental advocate and educator. He completed both his undergraduate and graduate internships at Hugh Taylor Birch and is now working on his Masters in Environmental Education/Program Management and is preparing for a doctoral degree. He previously worked as a Zookeeper/Educator at the Museum of Discovery and Science in Fort Lauderdale. Marc is responsible for creating, maintaining and expanding the park's Live Animal Program. He is solely responsible for interpreting these species and their importance and integration into the environmental and biological resources to visitors through weekly programs and periodic events and school presentations. Marc has an extensive personal reptile collection, but his pride and joy is the park's Eastern Indigo Snake which he was instrumental in obtaining.
Jennifer Douglass – OPS Park Ranger
Bio Coming Soon
Karen Ferguson – OPS Park Ranger
Karen Ferguson joined the Hugh Taylor Birch family in 2018 as an OPS Park Ranger after over ten years as a teacher and substitute in public school education. She plans to combine her love of the outdoors with environmental protection and education. She earned her Bachelor of Arts in Education and Masters in Curriculum and Instruction from Virginia Tech and entered the United States Air Force. After traveling around the world as an officer, then military dependent, she settled in South Florida and is currently completing an Associate of Science degree in Environmental Science Technology and Florida Master Naturalist certifications. When she is not in school or the park, she can be found geocaching, kayaking or chauffeuring her kids around.