LeAnn Hinson – Park Manager
A lifelong resident of Florida, LeAnn started her career with the Florida Park Service at St. Joseph Peninsula State Park in 2004. A summer position for the season, turned into a career that she fell in love with. LeAnn obtained her bachelor's degree in organization management with a focus in recreation. That led to her next move as Assistant Manager at St. Andrews State Park, one of the busiest state recreational areas within Recreation and Parks. As the Assistant Park Manager, LeAnn led a team of 20 field staff in daily & overnight operations, managed major and minor projects, obtained her certification to as a burn manager to conduct prescribed fire, worked with various agencies and helped reopen the park after Hurricane Michael. In addition, LeAnn has developed strong customer service and communication skills and has the excellent problem-solving approaches. LeAnn is passionate for bringing resource-based recreation to the public and enjoys working for a department with likeminded individuals. In her free time, she enjoys hiking and traveling with her husband.
Eric Kiefer  – Assistant Park Manager
Eric was born in Germany where his father was serving with the United States Army.  He was raised in a small town on the Arizona Mexico border.  After many years in construction and restaurant management he decided to change gears and earned a bachelor's degree from Northern Arizona University in Education/Biology. Eric moved to Florida and taught one year of high school before joining the park service in 1995. He has worked all over the state in various positions during his 25 years with park service and has a deep commitment to the natural environment and to making visitors feel welcome. In his off time, he enjoys working on old cars and trucks.
Heatherann Lamberto – Park Service Specialist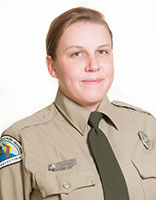 Heatherann joined the Birch team in June of 2016. She has been working for the Florida Park Service since March of 2014. Heatherann has a passion for Florida's flora and fauna, and enjoys sharing her knowledge with park visitors. She loves participating in Ranger Guided Walks and educating the public about preservation of Florida's valuable resources. She enjoys fishing, hiking, and sea bean collecting.
Maria Valente – Administrative Assistant
Native New Yorker Maria began working with Hugh Taylor Birch State park in 2021. Maria graduated with a bachelor's degree from Baruch College NYC and started her early career in Public Relations working for designer labels including Armani, Ungaro, Valentino and Joseph Abboud. Years later she changed careers and went into working as Event Management Specialist with a focus on fundraising, movie premiers and fashion shows. Her love for Public Parks started while working and raising her young family in Brooklyn Heights. Like many young families of that area, she often escaped city chaos to local public parks as they were the only "green spaces" available for those without backyards or gardens. She raised millions of dollars for various charities throughout her career, ranging from medical research to the arts. In her free times she enjoys spending time with her family, cooking, going to concerts, traveling, reading, arts and culture and serving her community.
Jackie Anderson – Park Ranger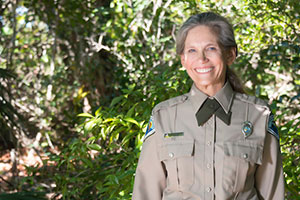 Jackie grew up in Fort Lauderdale and visited Hugh Taylor Birch State Park throughout her youth. After obtaining a Bachelor of Arts degree, she moved to Chicago where she raised her family. Jackie left the Midwest to move to Colorado and then California returning to her roots in 2016. Her love of the outdoors drew her back to the park where she volunteered before beginning a new career in the Florida Park Service. She enjoys reading, hiking, needlework and road trips.
Gary Busch- Maintenance
Gary started working for Hugh Taylor Birch State Park part time before being promoted to maintenance. He has worked in construction his entire career in one form or another, from building homes, to plumbing, driving cranes, to operating fork lifts and trailers. Gary loves the outdoors and being hands on with nature. Many of his photographs have gone national and international, including the cover of a magazine in New Zealand and with the Center for North American Herpetology.
Marc Caruhel – Animal Care Specialist – OPS Park Ranger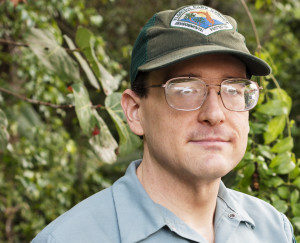 Marc began his relationship with the park at eight years old when he became a Camp Live Oak Camper, and later a Counselor in Training and then a Junior Counselor. He attended Florida Atlantic University where he served as an animal and environmental advocate and educator. He completed both his undergraduate and graduate internships at Hugh Taylor Birch and is now working on his Masters in Environmental Education/Program Management and is preparing for a doctoral degree. He previously worked as a Zookeeper/Educator at the Museum of Discovery and Science in Fort Lauderdale. Marc is responsible for creating, maintaining and expanding the park's Live Animal Program. He is solely responsible for interpreting these species and their importance and integration into the environmental and biological resources to visitors through weekly programs and periodic events and school presentations. Marc has an extensive personal reptile collection, but his pride and joy is the park's Eastern Indigo Snake which he was instrumental in obtaining.
Falon Hoak – Park Ranger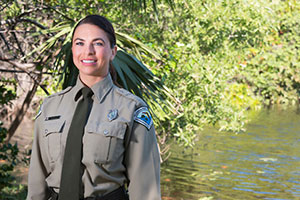 Falon is a native of the mountains of Pennsylvania, where her love and curiosity of the environment followed her first footsteps. After earning a degree in Biology, she moved to Florida in 2009. Falon held jobs as a regional sales rep for a homeopathic company and a food and beverage manager. Though excelling in these positions, they did not ignite her passion for the outdoors. An avid kayaker Falon was always touring friends around on adventures to help expose them to the real Florida. In 2016, Falon applied for a part time Park Ranger position at Hugh Taylor Birch State Park. Shortly after, Falon jumped on the opportunity to be a full-time Park Ranger and to advance her skills at Dr. Von D. Mizell-Eula Johnson State Park. Falling in love with the barrier island, rocky reef, mangrove and dune habitats, Falon acquired training in shoreline bird identification/rescue, sea turtle conservation and exotic reptile removal. In 2017 a Full Time Park Ranger position opened at Hugh Taylor Birch State Park, and Falon decided to return to the roots of her career. Falon is involved in the C.E.R.T. program in Fort Lauderdale, and in her free time enjoys free diving the reefs and springs, hiking, kayaking, raising butterflies, and gardening.
Taylor Hodge – Park Ranger
Taylor spent her life exploring the mountains and valleys of Northeast Tennessee. Before she became an adventure enthusiast, her life was devoted to the stage as an actress for ten years. Her hunger to explore the great outdoors drove her to become a cave guide for USA Raft in Erwin, TN. She guided in two wild cave systems and quickly moved up the ranks to Head of Cave Operations. In the meantime, she worked for East Tennessee State University as an Archaeological Laboratory Technician analyzing prehistoric ceramics collected from the ETSU Boone Lake Survey. She even worked as a farmer for a season through River Creek Farms at the confluence of Little Limestone Creek and the Nolichucky River. The Nolichucky River was a constant thread in Taylor's life, either through performing archaeological excavations of prehistoric sites along the riverbanks or taking a ducky down the class III-IV rapids of the gorge. In April 2020 Taylor moved from Johnson City, Tennessee to Hollywood, Florida with her husband and found Hugh Taylor Birch State Park. She immediately fell in love with the park and told her husband she wanted to become a park ranger there. She began volunteering at Hugh Taylor Birch State Park, and then became employed as an OPS park ranger. Now she has promoted to FTE at Birch and is enthusiastic to begin her new adventure at a park as diverse and beautiful as Birch State Park.
Brian Pressler – Park Ranger
Brian is a Park Ranger at Hugh Taylor Birch State Park. His love of nature and desire to give back to the environment brought him to the Florida Park Service in 2007. Brian has a lifelong interest in the environment, especially birds, trees, and butterflies. In his free time, Brian enjoys fishing, diving, and spending time outdoors.
Shane Williams – Park Ranger
Please meet Ranger Shane Williams. After retirement as the City's Lead Animal Control & Code Enforcement Officer IV, Shane started with the Florida Park Service in 2014 at St. Andrew's State Park in Panama City Beach, Florida. He and his wife are both Park Rangers and have worked at many state parks gaining knowledge and experience within all aspects of daily park operations. He has worked at Henderson Beach State Park, Fred Gannon Rocky Bayou State Park (Park Services Specialist), Fort Zackery Taylor Historical State Park, Windley Key Fossil Reef Geological State Park, Lignumvitae Key Botanical State Park, Indian Key Historic State Park, San Pedro Underwater Archaeological Preserve State Park, Shell Key Preserve State Park and now here at Hugh Taylor Birch State Park. His passion and dedication for our natural resources and visitors alike is truly unmatched. Anytime you see Shane in the park, he will greet you with a smile and good ole fashion southern hospitality!
Mary Bankert – OPS Ranger
Mary was born and raised in Panama. 30 years ago, Mary moved to the United States and raised her two children in Pennsylvania. Mary had spent countless vacations in the Fort Lauderdale and loved to explore it with her children. With her children and now grandchildren living in south Florida, she and her husband decided to move to Fort Lauderdale to enjoy their retirement. In the middle of the pandemic, Mary began volunteering at the Park. She was hired as an OPS Ranger in July of 2021. Though she loves the park, her favorite job is working in the air conditioning of the Ranger Station!
Terry Pierce – OPS Ranger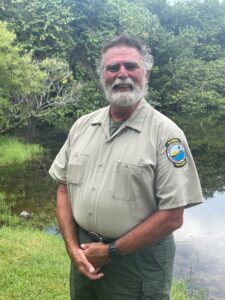 Terry was born in Alberta, Canada where he first recognized a strong love of the outdoors.  He has spent his lifetime exploring and learning in the fields and forests throughout both Canada and the U.S. and has been able to instill the love of nature in his sons as well through several long-term wilderness adventures. As a teacher, he has led many outdoor skills training sessions for both youth and adults, both beginner and advanced levels.  Terry moved to Fort Lauderdale, Florida in 1976 and immediately fell in love with Hugh Taylor Birch State Park.  As a cyclist, he enjoyed the green space and fresh air offered by this small oasis.  As a father, he brought his sons to the park regularly.  As a husband, he enjoyed many a Sunday morning with his partner, relaxing and watching the boats on the Intracoastal.  He is delighted by the fact that he now has the opportunity to act as a steward for this amazing natural resource, Hugh Taylor Birch State Park.
Al Rosado – OPS Ranger
Al is from a Honduran family but grew up down in Miami. He served in the US Marines in Operation Enduring Freedom. After transitioning out of the Marines he spent a few months in the mountains of Colorado where he developed a love for the outdoors. He learned to love Florida State Parks while visiting Dr. Von D. Mizell-Eula Johnson State Park, which made him visit Birch State Park. He and his son loved visiting the park and the beach. After a great tour from Ranger Falon, he walked over to the ranger station and asked about volunteering, just a few months later he applied for the position as a ranger! He is currently pursuing a degree in environmental science from Broward College, planning to get a bachelors from FAU in biology. In his free time, he is a grappling instructor, actively training in wrestling and jiu jitsu and pursing a black belt in judo.