Eric Kiefer  – Assistant Park Manager
Eric was born in Germany where his father was serving with the United States Army.  He was raised in a small town on the Arizona Mexico border.  After many years in construction and restaurant management he decided to change gears and earned a bachelor's degree from Northern Arizona University in Education/Biology. Eric moved to Florida and taught one year of high school before joining the park service in 1995. He has worked all over the state in various positions during his 25 years with park service and has a deep commitment to the natural environment and to making visitors feel welcome. In his off time, he enjoys working on old cars and trucks.
Heatherann Lamberto – Park Ranger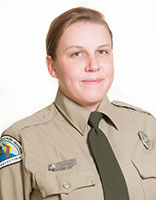 Heatherann joined the Birch team in June of 2016. She has been working for the Florida Park Service since March of 2014. Heatherann has a passion for Florida's flora and fauna, and enjoys sharing her knowledge with park visitors. She loves participating in Ranger Guided Walks and educating the public about preservation of Florida's valuable resources. She enjoys fishing, hiking, and sea bean collecting.
Jackie Anderson – Park Ranger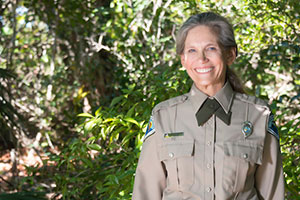 Jackie grew up in Fort Lauderdale and visited Hugh Taylor Birch State Park throughout her youth. After obtaining a Bachelor of Arts degree, she moved to Chicago where she raised her family. Jackie left the Midwest to move to Colorado and then California returning to her roots in 2016. Her love of the outdoors drew her back to the park where she volunteered before beginning a new career in the Florida Park Service. She enjoys reading, hiking, needlework and road trips.
Gary Busch- Maintenance
Gary started working for Hugh Taylor Birch State Park part time before being promoted to maintenance. He has worked in construction his entire career in one form or another, from building homes, to plumbing, driving cranes, to operating fork lifts and trailers. Gary loves the outdoors and being hands on with nature. Many of his photographs have gone national and international, including the cover of a magazine in New Zealand and with the Center for North American Herpetology.
Marc Caruhel – Animal Care Specialist – OPS Park Ranger
Marc began his relationship with the park at eight years old when he became a Camp Live Oak Camper, and later a Counselor in Training and then a Junior Counselor. He attended Florida Atlantic University where he served as an animal and environmental advocate and educator. He completed both his undergraduate and graduate internships at Hugh Taylor Birch and is now working on his Masters in Environmental Education/Program Management and is preparing for a doctoral degree. He previously worked as a Zookeeper/Educator at the Museum of Discovery and Science in Fort Lauderdale. Marc is responsible for creating, maintaining and expanding the park's Live Animal Program. He is solely responsible for interpreting these species and their importance and integration into the environmental and biological resources to visitors through weekly programs and periodic events and school presentations. Marc has an extensive personal reptile collection, but his pride and joy is the park's Eastern Indigo Snake which he was instrumental in obtaining.
Falon Hoak – Park Ranger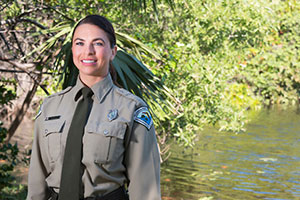 Falon is a native of the mountains of Pennsylvania, where her love and curiosity of the environment followed her first footsteps. After earning a degree in Biology, she moved to Florida in 2009. Falon held jobs as a regional sales rep for a homeopathic company and a food and beverage manager. Though excelling in these positions, they did not ignite her passion for the outdoors. An avid kayaker Falon was always touring friends around on adventures to help expose them to the real Florida. In 2016, Falon applied for a part time Park Ranger position at Hugh Taylor Birch State Park. Shortly after, Falon jumped on the opportunity to be a full-time Park Ranger and to advance her skills at Dr. Von D. Mizell-Eula Johnson State Park. Falling in love with the barrier island, rocky reef, mangrove and dune habitats, Falon acquired training in shoreline bird identification/rescue, sea turtle conservation and exotic reptile removal. In 2017 a Full Time Park Ranger position opened at Hugh Taylor Birch State Park, and Falon decided to return to the roots of her career. Falon is involved in the C.E.R.T. program in Fort Lauderdale, and in her free time enjoys free diving the reefs and springs, hiking, kayaking, raising butterflies, and gardening.
Brian Pressler – Park Ranger
Brian is a Park Ranger at Hugh Taylor Birch State Park. His love of nature and desire to give back to the environment brought him to the Florida Park Service in 2007. Brian has a lifelong interest in the environment, especially birds, trees, and butterflies. In his free time, Brian enjoys fishing, diving, and spending time outdoors.
Rebecca Stitt – Park Ranger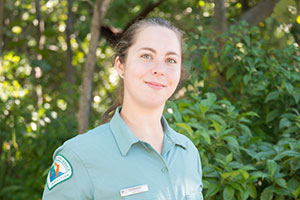 Becky spent most of her early youth in central Tennessee before finishing up her secondary education in western Wisconsin. Upon completing her bachelor's degree in anthropology in 2011 she spent several years working various jobs as an archaeological contractor, a philosophy teaching assistant and a museum curator. In 2016 she began working with the Urban Farming Institute educating young Floridians about the importance of sustainable agriculture practices and preserving the environment for future generations. In 2018, Becky began working as an OPS Americorps Non-Native Plant Terminator at Hugh Taylor Birch State Park. Upon completing her Americorps service she was happy to accept an offer to become an OPS Park Ranger here. Becky is a member of the Broward Native Plant Society and enjoys gardening, reading and spending time at home with her menagerie of cats and dogs.
Bill Oliver – OPS Park Ranger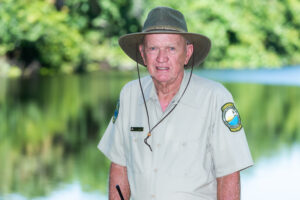 Bill was born in Indianapolis, Indiana, but grew up here in Ft.  Lauderdale with his twin brother and parents. He went to Stranahan High School and Broward Community College, and then served in the United States Air Force during the Vietnam era. After service, he became a ceramic tile and marble contractor. When he retired from the tile business, he joined the Birch State Park volunteer program. He enjoyed the park so much that after several years, he became an OPS Park Ranger. Now he continues to enjoy his days working with the entire staff, resident volunteers and volunteers. Bill is married to his lovely wife, Stella for over 50 years, and has three successful adult children, Kurt, Jennifer and Heather, and five beautiful grand children. Bill and Stella enjoy traveling and working on projects around their home.